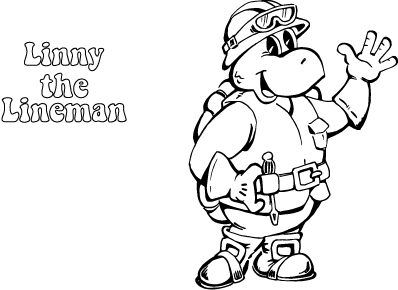 Linny the Lineman wants to teach children of all ages how to "Play it Safe" this summer! Join Linny July 19–21 online at palmetto.coop or on Facebook, Instagram and YouTube for Palmetto Electric's 3rd Annual Virtual Safety Days program. Linny and his friends will be sharing videos and daily activities covering a variety of safety topics including electrical safety, wildlife safety, water safety, personal safety and more!
We hope all children, and parents too, will make plans to join us as we take the fun online and learn how to "Play it Safe!"
Hey kids! Show us your creative skills and see how colorful you can make Linny! Email a picture of you and your artwork to safetydays@palmetto.coop. *By submitting a photo, individual gives Palmetto Electric Cooperative the right to use their name and photo in publicity including website, social media, print, etc.