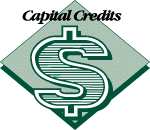 Capital Credits are the difference between your Cooperative's operating costs and revenues. Because Palmetto Electric is a non-profit cooperative, any revenues left over after expenses are returned to you, our member-owners. Each spring, we send you an Allocation statement showing the amount of your Capital Credits for the previous year. Capital Credits are then paid with Board approval after review of Palmetto Electric's financial statement.
In 2021, Palmetto Electric will return approximately $3.9 million in Capital Credits to members served by the Cooperative in 2004, 2006, and/or 2020.  The Board of Directors announced the retirement of 29.13% of Capital Credits earned in 2004, 65.49% of 2006, and 21.07% of 2020.  For those that registered and voted at the 2021 Annual Meeting, Capital Credits were returned in late spring.  For those that did not register and vote at the Annual Meeting, Capital Credits are issued in December.  
Why not consider donating your Capital Credits to Palmetto Electric's Operation Round Up program? This is a tax-deductible donation and all proceeds assist needy individuals and organizations in southern Beaufort, Hampton and Jasper counties. To make arrangements to donate your Capital Credits, contact one of our local offices or call toll-free 1-800-922-5551.
As a member of Palmetto Electric Cooperative, you are also one of our owners. You elect the Board of Directors and you have a voice in the way your co-op is managed.
Cooperatives exist to provide members with electric service on a non-profit basis. Investor-owned utilities, on the other hand, create a rate structure that will maximize their profits so they can pay dividends to their stockholders.
Cooperatives also collect more money than it costs to provide electricity, but in a co-op these "margins" do not belong to the corporation. Capital Credits belong to individual members who pay their monthly electric bills.
These excess earnings are accumulated in order to provide financial stability for your cooperative. This financial stability helps keep rates at a competitive level by reducing the amount of funds that have to be borrowed by your cooperative.
Each time you pay your electric bill you are making an investment in your cooperative. This excess capital is the only form of equity a member-owned utility has, and as it accumulates, it is assigned to each member's capital credits account.
Whenever Palmetto Electric Cooperative's finances permit, we return Capital Credits to our members. The decision is made by our Board of Directors after a thorough examination of the cooperative's financial position.
Prior to our Annual Meeting, members receive a statement with their total billings for electrical service for the previous year, which is referred to as patronage. This statement indicates the amount of Capital Credits accrued under each account. The amount of Capital Credits is determined by the excess revenues over expenses for the cooperative.
If you move out of the Palmetto Electric service area, you should leave your forwarding address with us so we can send your capital credits refund to you.
At this time, the only way an account can be "retired" or refunded in full is upon the death of the member.
To retire an estate one must:
Transfer the account out of the deceased member's name

List the name of the person who continues the account

Provide a copy of the Death Certificate

Provide a certified copy of Letter of Administration or document naming Personal Representative (a Power of Attorney is not acceptable)

Complete a "Request for Capital Credits Payment" form
You do not normally have to report your capital credits payment on your income tax. However, if you have questions concerning tax liability, contact the IRS or your tax preparer.
Capital Credits Search
| Full Name | Address |
| --- | --- |
| 14 NORTHRIDGE ASSOCIATES | PO BOX 7626 HILTON HEAD ISLAND SC 29938 |
| 50 DUNE LANE SC LLC | 50 DUNE LN HILTON HEAD ISLAND SC 29925 |
| A HEALING STORE | 86 HELMSMAN WAY STE 203 HILTON HEAD ISLAND SC 29928 |
| A NEW IMAGE SALON | 4 AZALEA ST STE O HILTON HEAD ISLAND SC 29928 |
| ABELIA TARRADELLES ZULEMA | 897 FORDING ISLAND RD APT 1004 BLUFFTON SC 29910 |
| ABERNETHY E THOMAS (ANNE) | 2230 ORSON DR APT 312 INDIAN LAND SC 29707 |
| ABLES JACK DR | 2330 MAPLE RD APT 105 BUFFALO NY 14221 |
| ABNEY APRIL DONNETT | 100 HELMSMAN WAY APT 407 HILTON HEAD ISLAND SC 29928 |
| ABRAHAMSEN ELEANOR M | 8080 SUMMIT BUSINESS PKWY APT 354 JONESBORO GA 30236 |
| ABRAMS LOGAN T (CHRISTINE) | 3258 NODA BLVD CHARLOTTE NC 28205 |
| ABRIGG JOSHUA M | 412 N WALNUT ST APT B WOOSTER OH 44691 |
| ACRO TOPPGRAPHY | 795 SUMMERLAKE CIR APT 201 RIDGELAND SC 29936 |
| ADAME STEPHANIE NAJERA | 143 FEREBEEVILLE RD RIDGELAND SC 29936 |
| ADAMS JESSE L | 4515 MOUNT PARAN PKWY NW ATLANTA GA 30327 |
| ADAMS JOY I | 3970 VALLEY CT WINSTON SALEM NC 27106 |